December 20th, 2007 by kevin
Update!

This job has been filled. We appreciate everyone who has submitted applications and expressed interest.
We're looking for a talented software developer to join our team. The position is for full-time employment. Take a minute to read this post and see if you meet our qualifications and are interested in working with us.
We Require That You…
Know

ASP

.NET,

SQL

Server, Javascript, and

CSS

extremely well.
Are able to take ownership of a project.
Are professional, disciplined, focused, and willing to have some fun at work.

Are smart and able to get things done

.
You Get Bonus Points If You…
Know or have at least played around with Ruby on Rails.
Read computer/programming blogs. Having your own blog gains you even more points!
Define yourself as a developer, not just a programmer.
Like us, live, breath, sleep and dream in code.
What Kind of Work Are We Offering?
Initially, you'll be helping us out on a cool ASP.NET project we started a few months ago that needs continuing development. It's written in ASP.NET 2.0, using Visual Studio 2008. It's about as cutting edge as you can get using the Microsoft stack (without using Beta tools).
Further on down the road, you'll help us out on other interesting projects that we have lined up, using the latest and greatest versions of ASP.NET and/or Ruby on Rails.
Why Should I Work at BrightMix?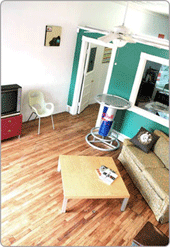 You'll probably enjoy working here if, like us, you dislike the stereotypical corporate work environment. You won't find any cubicle farms, water coolers, or TPS reports here. We have a colorful and comfortable office space, and we're working hard to make it a great place for developers to work.
We don't have a complex command structure, either. You'll get to work directly with the founders of the company. We're pretty friendly and fun dudes, and we promise not to boss you around too much.
We're also developers, not clueless, spikey-haired middle managers, and we're avid followers of the business philosophies of people/companies like Joel Spolsky, 37 Signals, and Eric Sink.
Traditional Perks
Competitive pay
3 weeks paid time off + sick time
Health, Dental, Vision Insurance
Flexible hours (start late, work from home occasionally, etc.)
Sweet Perks
Free soda and snacks of your selection
Semi-frequent company outings (lunches, golfing, bowling, Dave and Buster's, etc.)
Fun work environment (Pool table, drinks, video games)
Top of the line equipment – new machines, dual 24" monitors, comfy chairs, etc.
More to come…
Interested?
Think this job has your name on it? To apply, send an email to jobs@brightmix.com telling us a little about yourself, including why you think you'd be a good fit at BrightMix. Be sure to attach a copy of your resume, and include any relevant URLs (blog, websites, past projects, portfolio's, etc).
We look forward to hearing from you!