July 19th, 2008 by dusty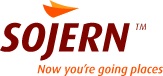 We're so very excited to report, that one of the projects that we've been working on for almost 10 months now has finally launched!
Sojern, a client of ours, has partnered with some of the major airline carriers, to provide targeted information and advertisements on boarding passes. This information includes weather, restaurant & event recommendations, fun facts, and other targeted advertisements.
The launch of the boarding pass project brought with it a LOT of press coverage.. Here's a couple of the highlights…
And hundreds more… Check out Google News…
What exactly was BrightMix's role in the development? We can't give out many of the details, but we were heavily involved with the backend processes and systems necessary to get all of the information collected and presented to the end user. It was truly an awesome project to be a part of, in the sense that its not often that you get a chance to launch a product to millions of users from day one. The technical challenges and obstacles were very exciting indeed.

Congrats to the whole Sojern team, and everyone involved in getting this project off the ground. It was truly a great experience, we're happy to have been a part of it, and we're excited to continue to help Sojern with their long-term success.